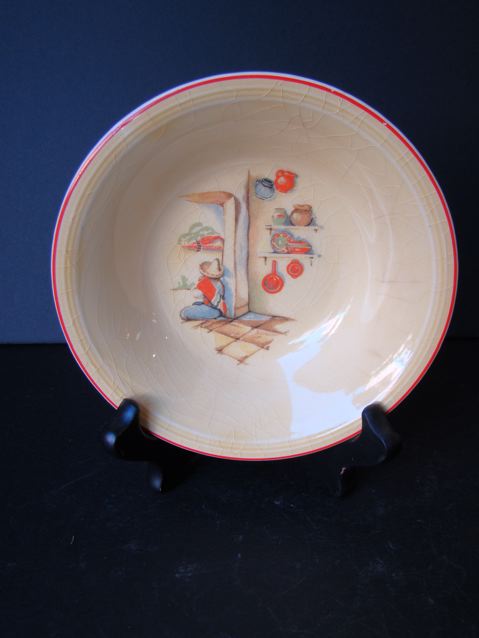 Edwin Knowles
Edwin Knowles Bowl Mexican-themed #1
Edwin Knowles Bowl 5.5″, 1 of 6. No cracks, hairlines, or repairs.

History of Edwin M Knowles China Company.
Edwin M. Knowles ( 1869-1943) was the son of Isaac Watt Knowles (1819-1902), a founder and partner of the firm Knowles, Taylor, and Knowles Co., which by the turn of the century had become the largest pottery in the world.   Edwin Knowles' father had helped pioneer many inventions that revolutionized American dinnerware manufacture. Edwin M. Knowles entered the pottery business after receiving his education at Allegheny College and Harvard University.   He took control of the Potters Supply Company of East Liverpool, Ohio in 1890.   By 1900, he became founder and president of the Knowles China Company, which soon changed its name to the Edwin M. Knowles China Co.
The Knowles facility, located in Chester, West Virginia, was described as a "model plant of the highest order."   Edwin Knowles determined that his firm would manufacture only the finest semi-vitreous ware.   One year later, product from the plant was lauded by the Crockery and Glass Journal as the highest grade ware: "weight is light, its finish the finest, its shapes graceful, its decorations artistic, and its body and quality most durable."   Knowles' reputation for creating quality product became known throughout the industry.   Demand for Knowles product grew.   It wasn't long thereafter that plant No. 2 was erected, just two miles south of plant No. 1 along the Ohio River in Chester, West Virginia in Newell, West Virginia. By November 1930 production had been at its best since the ending of the World War.   The number of workers at this time was about 725 and by March 1931, with business still improving, employment was reported at about 600 workers.   The firm consolidated its manufacture at the Newell factory, selling its Chester, West Virginia plant to the Harker Pottery in 1931. Vincent Broomhall (1906-1991) became the firm's art director in 1935.   The deco-modern Yorktown dinnerware was introduced in 1936.   The line was characterized by many circular ridges or terraces, a common design feature at this time.
A full-featured line of kitchenware accessories was introduced by the company in 1938.   Designed by Vincent Broomhall, it was said to be modern and promoted the space-saving concept in the kitchen.   The ware, available in seven colors that could be mixed and matched, was said to be in colors jointly adopted by retail organizations. The company introduced its new shape in 1939.   Potomac was said to combine "Colonial grace with modern simplicity".   Patterns on the shape would be in "The American Tradition", with themes from early American to American modern. The company ceased operations in late 1962.
---
More from this collection